RACV Fly the Flag
15 - 21 March 2014
Veteran, Vintage and Classic vehicles are eligible to enter. This includes motorcycles and commercial vehicles. All pre-1982 registered and club permit vehicles are invited to enter.
---
The 2013 RACV Fly The Flag Northern Tour was a great success.


Above are a few of the cars.
(Slide mouse over the image for a description below in the status bar)
A summary and review of the trip (with pictures) is available as a PDF file (3.2MB)-right click and select 'save target as' to download
Gordon Lindner has made his pictures available on his picassa web site
---
Itinerary 2013
This tour of the lands north of Melbourne spent its first night in Shepparton, then on to Wagga Wagga for a two night stay. The tour then motored on to Wodonga, followed by two nights at Mansfield. It finished with the farewell and presentation lunch at the Yarra Valley racecourse in Yarra Glen. Details are in the report in this PDF file
Judging results
The judges recognised the following participants: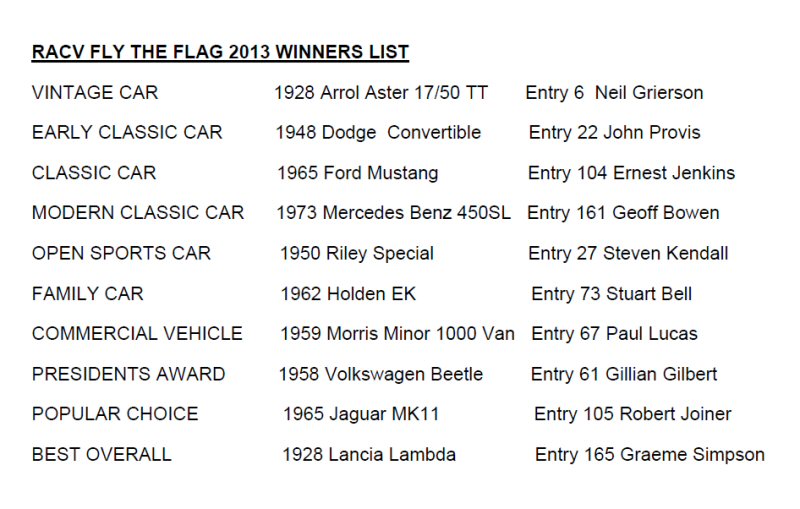 Entry fee
Entry fee is $350 per person. This fee includes all dinners, six breakfasts, four lunches, entertainment (other meals are not included). Each car participating receives a rally badge, RACV cap and RACV maps and miscellaneous travel material. Vehicles must complete the tour to be eligible for prizes.
Accommodation
Accommodation of all types is available in every town. There is a wide variety from on-site cabins through to B&Bs and motels, both budget and four star. The local tourist centres in each town can help organise your accommodation and in most instances will book for you. Booking accommodation is your own responsibility. Book early to ensure you are guaranteed accommodation.
All the Details...
The 2014 Tour Brochure will be available for download using the button on the left after September 2013.
Full tour bookings only! No dogs please!
The Fly the Flag Tour is proudly sponsored by RACV.
Organised by the All British Classics Car Club.
Supported by the Association of Motoring Clubs and the Federation of Veteran, Vintage and Classic Vehicle Clubs.