Updated on
27 August 2017.
---
174 days until the next tour starts.
2018 ABCCC Fly the Flag
Friendship Tour
18 - 24 March 2018
---
Welcome to the web site for the ABCCC Fly The Flag Tour. The 2017 Fly The Flag Alpine Tour was held from Sunday, 19th March through Saturday, 25th March 2017. We are in the planning stages for the 2018 Fly The Flag Tour - watch for details to come.
RACV has rejected the proposal from the All British Classics Car Club to sponsor our 2018 Tour. We are, at present, in negotiations with a new sponsor but, regardless of that, the Fly The Flag Tour will go ahead from 18th March to 24th March 2018 - with or without a sponsor.
Unfortunately due to the delay in obtaining a response from the RACV and negotiations with new sponsors, application forms will not be available until Oct/Nov.
We thank all who participated in the 2017 Tour. Such fine and loved vehicles were a welcome spectacle for every town we traversed. One comment received is typical:
"... they look magnificent! Your members are welcome to return to Chiltern anytime at all... just let us know. We will make it a most memorable trip!"
Kevin Mayhew
President of Chiltern Tourism & Development
---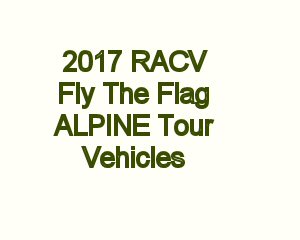 We are on our way. Above are most of the cars on the 2017 tour.
or see pictures on our Facebook page. If you don't see your car here, please upload a pic for all to see.
---
Judging results
The judges recognised the following participants: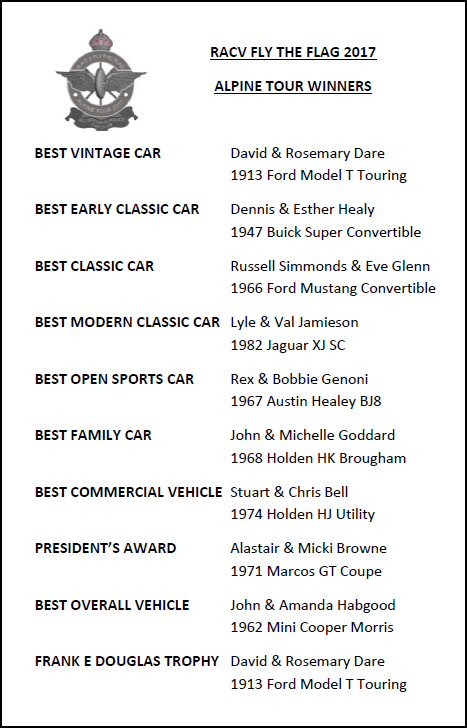 ---
Tour Marshals
The Tour could not function without the help of the volunteer marshals. Thank you, one and all.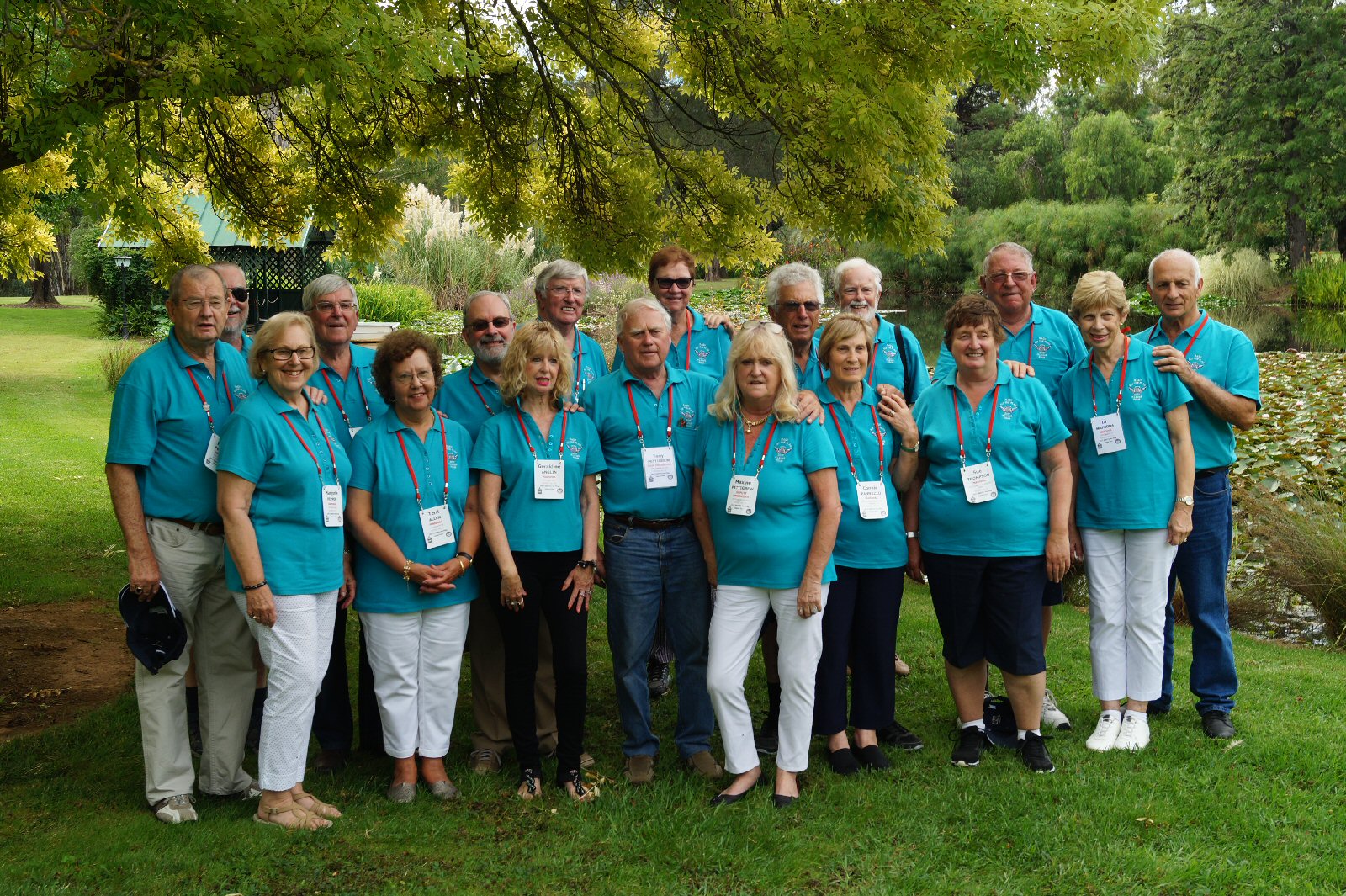 ---
Itinerary 2017
From Noble Park to Moe, Bairnsdale, Omeo, Bright, Myrtleford, Beechworth, Yackandandah, Rutherglen, Yarrawonga, Murchison East, Euroa, Merton, Mansfield, Bonnie Doon, Alexandria and finish at Yarra Glen.
Entry fee
Entry fee is $395 per person. This fee includes all dinners, six breakfasts and four lunches, all entertainment, entry to Noorilim, Beechworth Precinct Pass and other attractions en route. Each car participating receives a rally pack and a commemorative rally badge. Vehicles must complete the tour to be eligible for prizes.
Accommodation
Accommodation of all types is available in every town. There is a wide variety from on-site cabins through to B&Bs and motels, both budget and four star. The local tourist centres in each town can help organise your accommodation and in most instances will book for you. Booking accommodation is your own responsibility. Book early to ensure you are guaranteed accommodation. Details are in the tour brochure.
Cancellation
Notice must be received in writing by Friday, 3rd March 2017 to qualify for a refund. All cancellations will incur a $20 p.p administration fee.
Notes
Vehicles older than and including 1982 are eligible to enter. This includes motorcycles and commercial vehicles. No dogs, please!
---
The Fly the Flag Tour is obtaining a sponsor for 2018.
Organised by the All British Classics Car Club.
Supported by the Association of Motoring Clubs and the Federation of Veteran, Vintage and Classic Vehicle Clubs.
---
Check out our Fly The Flag Tour Facebook page (button on the menu on the left of the page). Please share your comments and pictures.
---